Text produced in collaboration with Zenseact
Recognizing the obstacles that women face in the tech industry, Vanessa Eriksson, the founder of Girls in Tech Nordics (GiTN), and Rahell Rada, City Lead for GiTN in Gothenburg, are dedicated to promoting inclusion and recognizing the invaluable contributions that women make to advance the tech industry. Together, they work towards breaking down barriers and creating opportunities for girls to thrive in the field of technology later in the years.
Girls in Tech Nordics is committed to building an inclusive world where women play a vital role in technology. The organization was founded in 2017 to encourage and inspire schoolgirls between the ages of 13 to 16 within the areas of STEM: Science, Technology, Engineering, and Mathematics. GiTN also supports young women pursuing degrees in these fields, helping them achieve their educational goals. The organization frequently hosts events and visits where successful women in tech share their experiences, insights, and advice to inspire and empower attendees.
One such woman is Vanessa Eriksson, CDO at Zenseact and Founder of Girls in Tech Nordics. The drive to trigger change through inspiration led Vanessa and her co-host Ulrika Andersson to bring about the first GiTN event in 2017. Its success over the years eventually resulted in the founding of Girls in Tech Nordics, a non-profit organization underlining Vanessa's determination to make a difference.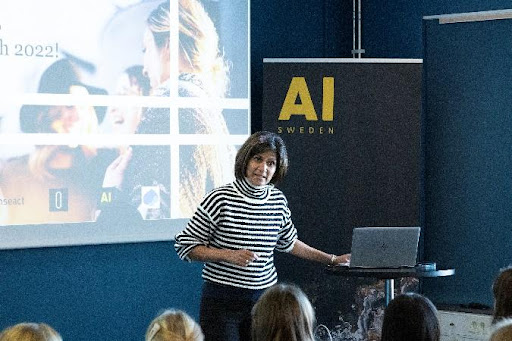 To Vanessa, the reason for driving the initiative is crystal clear. Importantly, the company she works for shares her values. "To us, the math is simple; to have more women in tech tomorrow, we need to have a greater number of girls considering, choosing, and exploring tech and science today. And to have Zenseact, a company that I love and am proud of, take the lead in establishing Girls in Tech Nordics for the West Coast of Sweden is just so wonderful! Diversity has always been high on the agenda for us, and with this initiative, Zenseact is really walking the talk!"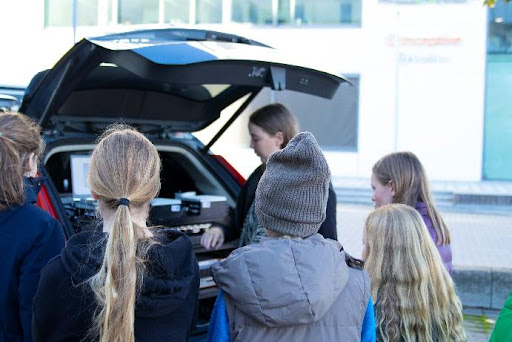 GiTN typically organizes events together with organizations and companies that work actively to influence and lead change while also collaborating with academic institutions. In Gothenburg, GiTN works closely with companies and organizations like Zenseact, AI Sweden, Ericsson, UnCloudy, Gothenburg University and CapGemini Engineering. These enterprises all have strong ties to the academic community.
To Rahell Rada, Talent Acquisition Partner at Zenseact and City Lead of GiTN in Gothenburg, the collaboration between GiTN and Zenseact is a perfect match. "Empowering and inspiring girls and non-binary young people in the tech industry through mentorship and insights is what GiTN is all about. At Zenseact, we believe in sharing knowledge and taking ownership, contributing to a business environment where gender equality is one of the critical factors – not only for innovation but also for creativity. For us, joining GiTN was a big yes."
Moreover, Girls in Tech Nordics holds innovative workshops where schoolgirls can touch, experiment, and ask questions. "There's often a gap between early academia and organizations, and this hole must be bridged by building pathways that every girl and non-binary person can walk on – hand in hand with partners and employees," Rahell explains.
The organization also provides mentorship through female engineers who volunteer and mentor.se and PRAO ("praktisk arbetslivsorientering" – mandatory work experience), giving girls excellent opportunities in GiTN's membership forum.
By addressing obstacles, offering mentorship, and organizing events inspiring young girls, GiTN in Gothenburg and Zenseact will work towards a more inclusive future. "Together with all partners, we are unwaveringly determined to bring more girls into tech, ensuring that the industry benefits from the valuable input of women, driving innovation and growth for generations to come," Vanessa concludes.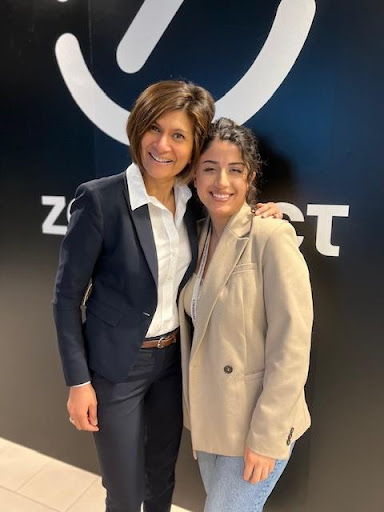 Vanessa's and Rahell's vision for Girls in Tech Nordics is to empower and inspire girls and non-binaries in the tech industry through mentorship and insights. By taking over the lead for Girls in Tech Nordics Gothenburg, Zenseact's contribution to this mission grows even stronger.